RAGTRADER 2018 power 30 list
There is a reason digital influencer Tash Sefton is regularly called on to collaborate with brands and host events, including both the Target and Wittner 2018 activations. Sefton knows her stuff.
REAL LIVING MAGAZINE FEATURE april 2018
Tash Sefton is no ordinary slashie – she practically invented the word. The influencer, entrepreneur, artist and mother is co-founder of TheyAllHateUs, a fashion blog/online shopping destination that exploded onto the scene in 2007 and propelled her into the limelight as one of Australia's first fashion influencers, when most people were still wondering how to use a hashtag.
BED THREADS HOME TOUR
We headed over to the Mosman home of Tash Sefton, style consultant and co-founder of Sefton&Segedin, an original art atelier she runs alongside sister Hayley. Sefton's spacious family abode is, as expected, adorned with illustrations, paintings and handcrafted ceramics as far as the eye can see. (The only thing maybe more impressive is her expertly curated collection of designer bags and shoes.)
MOSMAN DAILY - COVER FEATURE
Tash Sefton discussing how she has changed her entire business model to take a conscious approach to the fashion industry. And her work in animal conservation and sustainability in the beauty industry.
daily telegraph
The evolution of Tash Sefton: Inside the life and home of Mosman style discussing. trends for the everyday woman is a skill she has built her career on.
sitchu living event - interior and fashion trends
Tash was on a panel of creative industry experts to discuss everything from the most noteworthy trends in fashion, art and interiors, to injecting your own style and personality into the home "Mixing old with new. I hope that people reuse, share and pass things down. It creates a lovely aesthetic in your house that's soulful."
DAILY TELEGRAPH
Style queen Tash Sefton admits: I was a part of the Instagram problem
One of the original social media influencers has had a change in heart after taking a step back and realising it was creating feelings of insecurity and inadequacy.
TIM ROSS IN CONVERSATION WITH TASH SEFTON
Taste Maker, Fashion Forecaster
In this episode the iconic fashion trend forecaster reveals her link with fast fashion, how she has now taken an active role in trying to combat this issue, and the truth behind her seemingly perfect social media image.
STUDIO 10 LIVE STYLING SESSION - STYLISH YOU AT ANY AGE
If you feel like you've lost your fashion mojo, style expert Tash Sefton has the tips you need to know to feel fashionable at any age and budget.
PODCAST WITH UK JOURNALIST SUZANNE DELAHUNTY
Anyone with a passing interest in fashion will have heard of my latest podcast guest, Tash Sefton. She is one of Australia's most successful fashion entrepreneurs.
NEWS.COM.AU FEATURE
Style guru Tash Sefton reveals her secret to health and happiness
Tash Sefton ate and drank whatever she wanted, or whatever the latest trend diet recommended. Then she realised just how wrong she'd had it.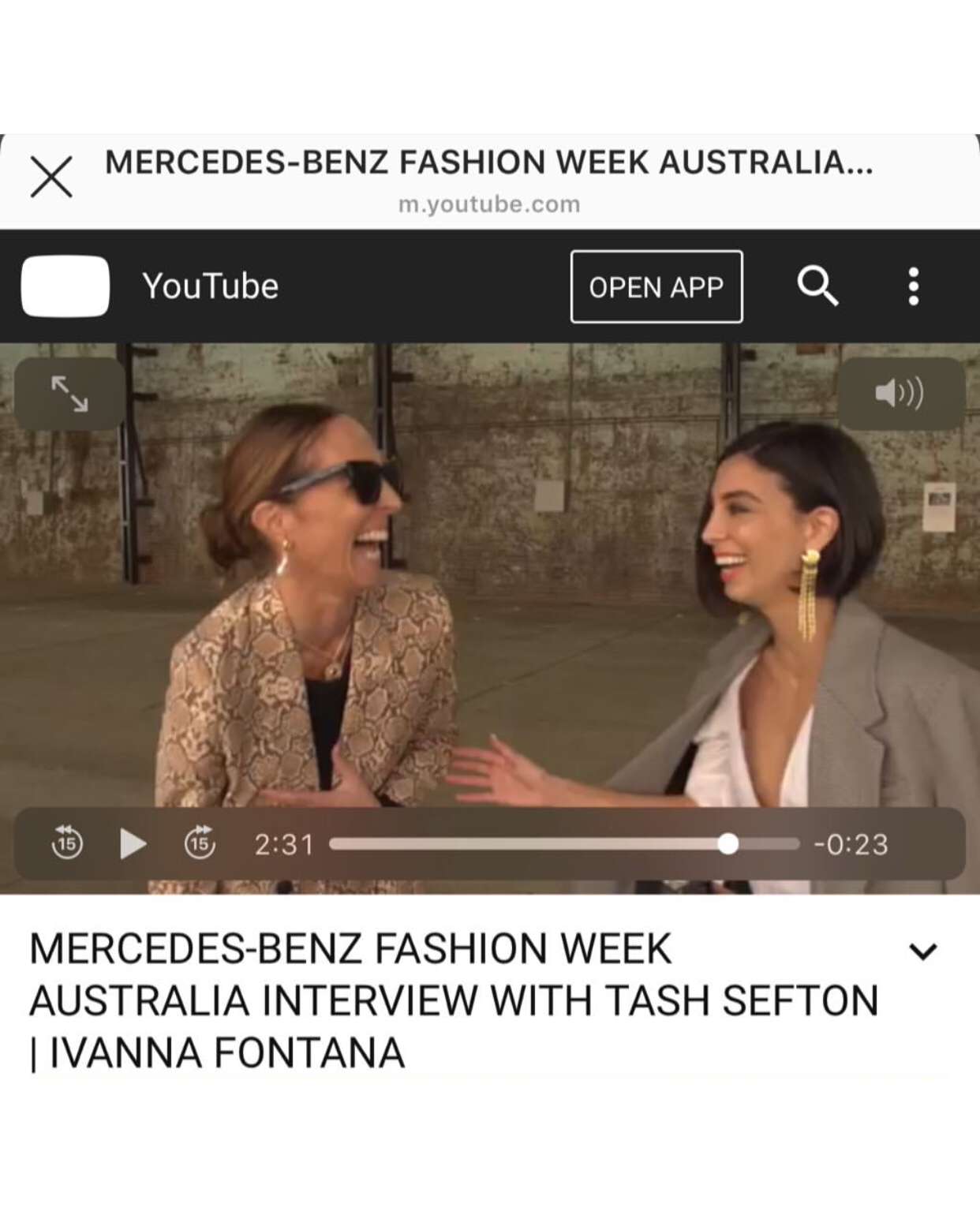 MBFWA INTERVIEW
Made of Fashion Ambassador Ivanna Fontana interviews the stylish Tash Sefton at MBFWA discussing her tips on re-styling your wardrobe and being a 'conscious consumer'.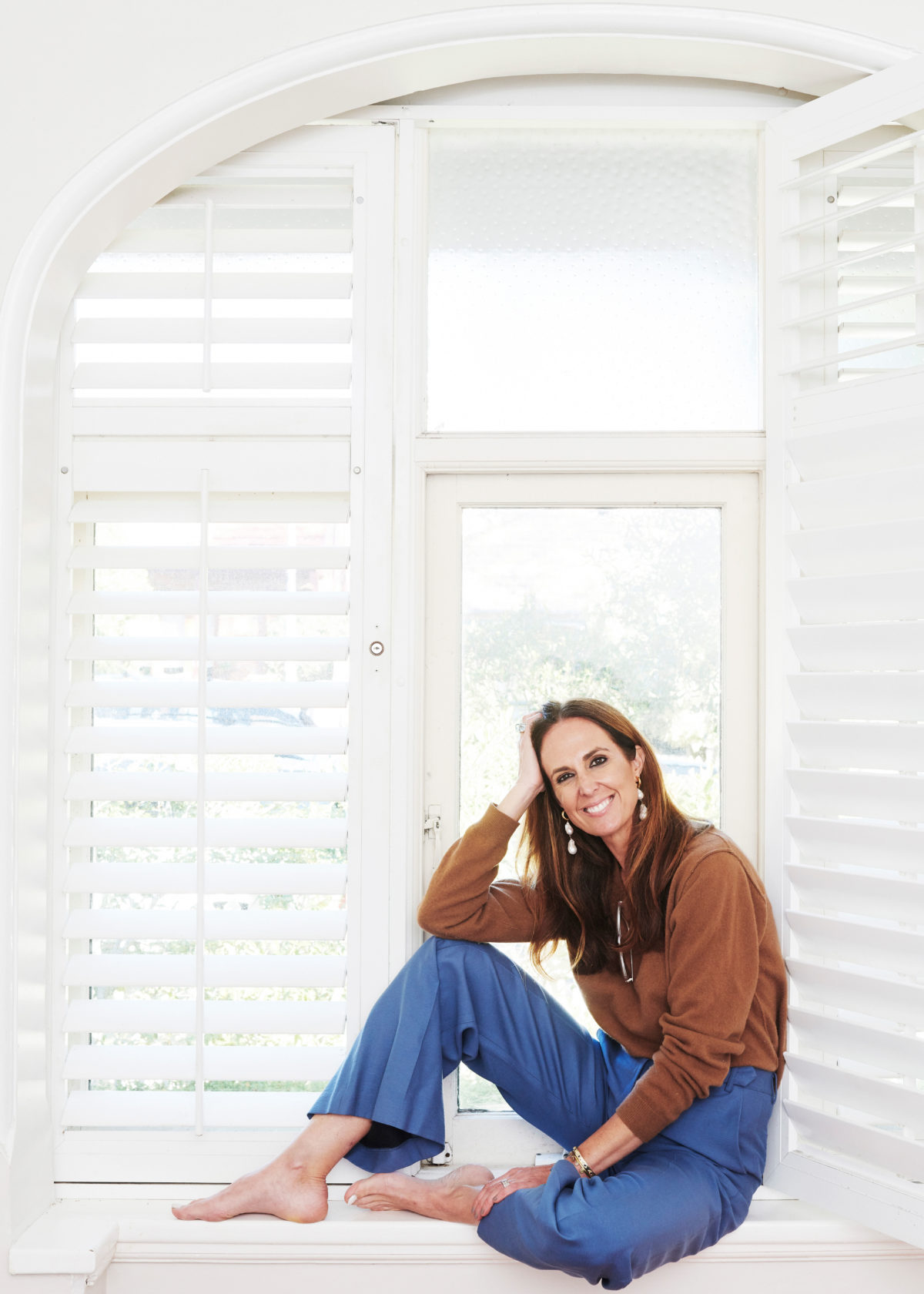 STYLING YOUR HOME & YOUR LIFE
Perhaps best known for her personal style (and associated knack for transforming high fashion concepts into straightforward tips that are accessible for all women), Tash Sefton has the kind of practised eye that takes years to hone. A woman of many talents, the lifelong creative is inordinately passionate about style, but she's equally devoted to animals and conservation and interested in cultivating her artistic expression
HOMES TO LOVE FEATURE april 2018
Visit influencer Tash Sefton's stylish Sydney home
With its many prints, splashes of colour and rich textures, the home of influencer Tash Sefton is artfully pieced together, echoing her enviable wardrobe.
MOSMAN DAILY COVER FEATURE APRIL 2018
Life is a stylish business for fashion entrepreneur Tash Sefton, but at home in Mosman she is just a mum with a 'cool' job, in the words of eldest son Jay 12.
Sefton, has worked in the fashion industry for more than two decades, while no fewer than 255,000 Instagram users follow her carefully curated world.
COUNTRY ROAD EDITORIAL MARCH 2018
While long known in the fashion world, Tash Sefton is beginning to make quite the name for herself on the art scene. Alongside her sister Hayley, Tash forms one part of Sefton Segedin – recognised for their one-of-a-kind abstract illustrations, each created by hand. Here, she chats to us about the creative philosophy that weaves throughout her life and then shares her advice on how to style hanging art.
THE DESIGN FILES FEATURE august 2018
Sydney fashion stylist Tash Sefton epitomises effortless 'off-duty' fashionista style, and it's little surprise her family home has an equally relaxed, yet stylish feel.
Tash sees interior decorating as a highly personal undertaking, where family stories take centre stage. She shares her Mosman home with partner Mark and sons Jay (12) and Mac (6). Today, we take a tour!
THE DAILY TELEGRAPH 2018
Tash Sefton combines chic style and a savvy business sense with an unrelenting work ethic. Sefton has launched Where Did Your Style Go, a style consultancy business is her chance to give something back and impart her professional fashion know-how. "If you don't know what your style is, you're just buying stuff and not really understanding why. So I teach you how define your style and how to work out what you love.
PARLOUR X INDUSTRY INTERVIEW 2018
Fashion taste maker and consultant Tash Sefton professional career has centred around the fashion industry for over 20 years. The Sydney-based mother of two has a unique perspective on style, influenced by years of assessing global trends and a combined knowledge of women's consumer habits. Her experience, combined an innate love of fashion, has cemented her fashion education and ensures that her outlook on style and fashion is well researched and considered.
SITCHU PROFILE MARCH 2019
Fashion guru, artist and all-round style maven, Tash Sefton is a woman who knows how to nail a trend. But it's not just the fashion world Tash is taking by storm; the revered stylist has turned her talents to interiors in recent years, to add to her mounting accolades.
Now famously known as one half of Sefton Segedin – a painting collection founded with her sister Hayley – the sartorial superstar is now a major player in the art world too.
MAMAMIA YOU BEAUTY PODCAST
Tash is a fashion tastemaker and a consultant with over 20 years experience in the fashion industry. She's also the founder of the website, Where Did Your Style Go. In this episode, Tash shares her tips on how to remove stubborn makeup with a ridiculously cheap, re-usable product. Plus she reveals how she managed to clear her clogged pores after years of fake tanning. And in our Spendy/Savey segment she tells Leigh about the face oil that's changed her life.
JAC & JACK charity t-shirt campaign
Jac and Jack teamed up with Australian artist Jonathan Zawada for the collaboration, and the result was a cute echidna sketch, one of the many "at risk" species that will benefit from the Taronga Conservation Society. All proceeds from the sale of the T-shirts will fund ongoing research. It's available from today, and retails for $90. There are limited quantities available, so we recommend snapping one up now so you can look good, and feel good. The campaign features Australia' top influences…including Tash Sefton.
WHO MAGAZINE - EDITORIAL
Aussie style expert Tash Sefton explains how to create a capsule wardrobe with 12 items. "The reason I love this concept is because most people keep shopping and find they still have nothing to wear - its because they don't have a good base".
BY CLAUR NEW YORK/BRAZIL - PROFILE
An expert from Australia, we have followed Tash Sefton's incredible style journey for years.
HUSSKIE profile - STYLE STAPLES october 2018
Tash Sefton is undoubtedly one of Australia's most successful fashion bloggers and influencers… but that's not her only prosperous business pursuit. Earlier this year saw Tash launch into a new entrepreneurial venture with Where Did Your Style Go – a consulting business aimed at assisting women and men look and feel their best.
INTERVIEW WITH JULES SEBASTIAN
Tash Sefton is a fashion and online business force. When she joined me on Tea with Jules, I was not expecting the conversation to take the course it did – but I couldn't have been more happy with where we went. We got down to the real deal and talked about topics that affect us all. Social media is something I have been thinking a lot about lately and have been trying to navigate my way through feelings of overwhelm and insecurity, so I was happy when Tash opened up to share her thoughts around living her life online, and how she found her true calling after hitting rock bottom.
DAVID JONES PROFILE - MORNING SKIN ROUTINE
Wake up and see what Tash Sefton's morning skin routine is. We go into her bathroom, to learn about what products she uses and why. And honest approach to all things beauty.
ELLE MAGAZINE - HOME FEATURE
Take a tour of Tash Sefton new home, including her lust worthy wardrobe.
WARDROBE ICONS COVER STORY
Tash Sefton's owns everything we covet and seems to continuously find new things that we never knew we needed but suddenly do – hello tan heels! Tash Sefton, mother of two and one half of the fabulously stylish duo behind the Australian blog 'They All Hate Us', allows us into her Sydney home and most inspirational closet
GRAZIA FEATURE - SWIMWEAR RANGE
Businesswoman, fashion buyer, style blogger, television host, designer, model and mother of two, Tash Sefton – co-creator of wildly digital brand TheyAllHateUs – is certainly a great many things, but what you mightn't know is there's another creative string to her bow: fine artist.In 2015, Sydney-based Sefton founded painting company Sefton Segedin with her sister Hayley Segedin, who is also a landscape architect and project manager.